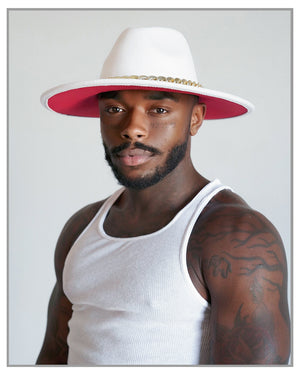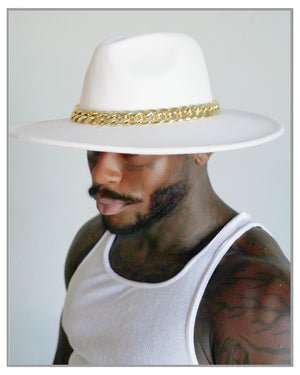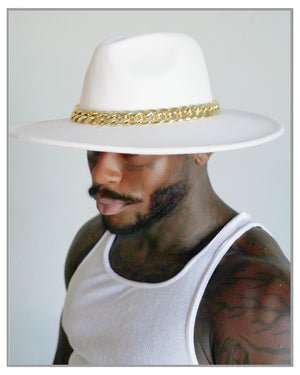 Classic White Fedora with Gilded Chain and Crimson Accent
Introducing our Classic White Fedora with Gilded Chain and Crimson Accent – a timeless fusion of sophistication and flair. This iconic fedora exudes elegance, featuring a pure white crown that perfectly complements the opulent gilded chain detail. The rich crimson accent adds a touch of boldness to the ensemble, creating a harmonious blend of classic and modern aesthetics. Elevate your style with this exquisite accessory – a testament to the enduring allure of the fedora hat.This 100% handmade black bucket hat is perfect for adding a unique and stylish touch to any outfit. The crocheted material ensures durability and comfort, giving you the perfect blend of style and function. Show off your individualized sense of fashion with this one-of-a-kind accessory.

80% Polyester 20% Cotton .

Spot Clean

Please Read Before Purchasing:
Our hats are made to fit average head sizes, the average adult head circumference to be 55cm (21 3⁄4 ) in females and 57cm (22 1⁄2 in) in males.

Most of our hat styles start at 24 inches which is 60cm, hence why 95% of our models come with an adjustable band to make the inside smaller! If you want a hat filler that can also be added, just message us to find out how.

If your head circumference is bigger than 24 inches we suggest these are not the hats for you!

This Hats Exact Dimensions Are: 4.15 inches (brim) x 24.5 inches (crown)

Colors may vary due to lighting and editing.
**Before placing your order, please review and agree to our terms and conditions:

- We are unable to ship to PO Box addresses.
- Due to health protocols, we are unable to process returns or exchanges.

*Please double check your order before submitting. If you have any additional questions, please reach out to us. Thank you.